As the highly anticipated ESL Impact Season 4 draws closer, we're here to provide all the essential details you need to follow the riveting action. Get the lowdown on the full schedule, key format changes, fresh requalification updates, the list of invited teams and more!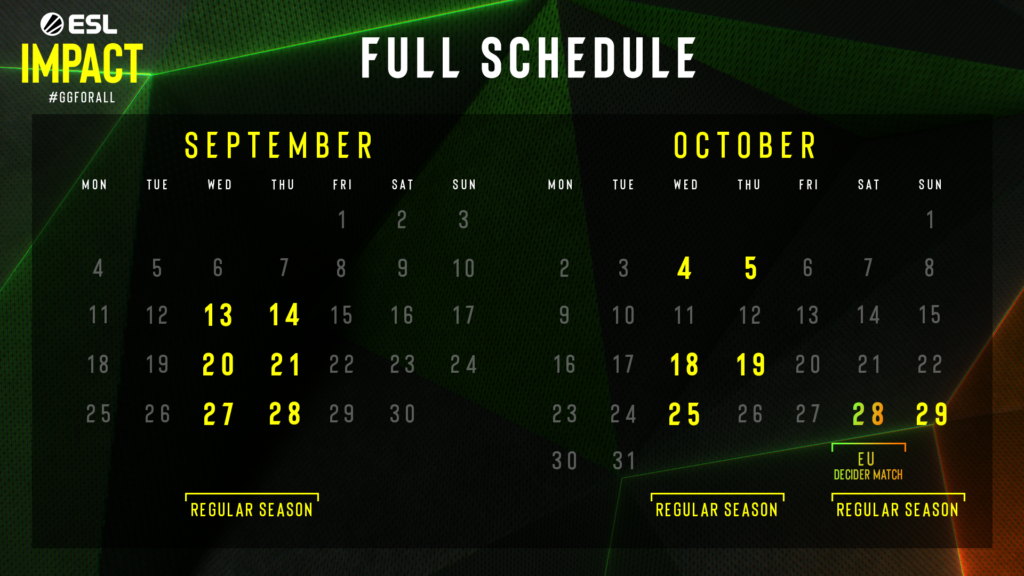 Full Schedule
The visual calendar above is your roadmap to all the electrifying matches lined up in ESL Impact Season 4. It marks out the key dates for the Regular Online Season and the EU Deciders, providing a bird's-eye view of all the action that's about to unfold.

Amidst the Online Season, don't forget the Asia Wildcard Qualifier. Scheduled for October 6-8. Scroll down for more exciting details!

But let's not forget, it all kicks off with the Open Qualifiers. Open Qualifier #1, runs between August 18-20, closely followed by Open Qualifier #2 on August 23-25. These qualifiers are your team's golden ticket to enter the regular season, so make sure to mark these dates and sign up! 👇
Open Qualifier #1
Open Qualifier #2
Online Season Format Changes

In keeping with our commitment to exciting, balanced competition, there are some changes to our online season format this year.
In Europe, the format remains unchanged from Season 3. We have 2 groups of 6 teams in a single round-robin, with all matches being best-of-three (Bo3). The top team from each group will advance directly to the Season Finals, while the second team from each group will participate in a decider match (Bo3), the winner of which will also proceed to the Season Finals.
However, North America and South America will see changes this season. Each region will feature a single group of 8 teams. The first and second teams of each region, based on a single round-robin match system, will advance directly to the Season Finals. As with Europe, all matches will be best-of-three.
Requalification
New to ESL Impact Season 4 is our exciting Requalification process! We're raising the stakes and heating up the competition, offering the Top 8 in EU and Top 4 in NA & SA a chance to secure their future. Will you rise or fall? 🤔
Invited Teams
We're excited to unveil the invited teams to Season 4 -
Europe:
Nigma Galaxy
NAVI Javelins
9 Pandas Fearless
BIG EQUIPA
Ninjas in Pyjamas
G2 OYA
Aces
Guild
South America:
B4 Esports
w7m esports
FURIA
MIBR
North America:
FlyQuest Red
Shimmer
Evil Geniuses Gold
DETONATE
In addition, four teams from each region will have a shot at glory through the open qualifiers. Stay tuned to see which emerging stars will make the cut.

Asia Wildcard
The Asia Wildcard is back in the mix for Season 4, adding another layer of electrifying competition from this dynamic region. The Open Qualifier will take place from October 6-8. This is a challenging yet thrilling unlimited single elimination, best-of-one bracket qualifier. Only one team gets to grab the golden ticket to the Finals in Valencia!
Where to Watch
Never miss a moment of the thrilling ESL Impact Season 4! Catch all the high-octane action live, right where you are, on your favorite platforms. Click on the Twitch or YouTube buttons below to tune in to our live streams, ensuring you're always at the heart of the action. See you there!
The countdown is on, so don't miss any part of what promises to be a highly competitive ESL Impact Season 4!