Following the announcement that Season 11 of ESL Pro League would be played online, we are instituting some necessary changes to ensure that the tournament will run smoothly.
1) Regional Divisions:
In order to limit the amount of traveling involved for teams as much as possible, the league will be effectively split into a European and North American division with three groups and one group respectively. This will allow players to remain in their current location and still play in a competitive online environment with minimal network restrictions.
2) Team Replacements:
Renegades were committed to participate in Season 11, but unfortunately, they did not feel comfortable traveling overseas given the global health situation. We would like to clarify that this does not mean they are disqualified from ESL Pro League. We fully support their decision and wish to see the boys again soon. Swole Patrol will fill their slot.

Sharks were in Europe and ready to play in ESL Pro League. However, the team and ESL have agreed that it is safer for the players to be at home right now. Similar to Renegades, they are not disqualified from Pro League, so we will see them back next season. We will announce their replacement shortly.

BOOM were prepared to play in Season 11 from Europe, but due to recent developments in Brazil, they will return to their home country as soon as possible. Similar to Renegades and Sharks, they are not disqualified from ESL Pro League. Team Spirit will replace them in Group A.

Heroic was unable to field an eligible lineup for ESL Pro League and will be replaced by BIG.
3) New Groups and Seedings:
The regional division naturally required re-seeding the groups. Keeping the schedule and groups as consistent as possible with the previously announced version, as all teams have made commitments and preparations to play at certain times, was also a top priority. The teams currently located in the US will be moved together into Group C. Some European teams were reorganized into different pools as a result.
Group A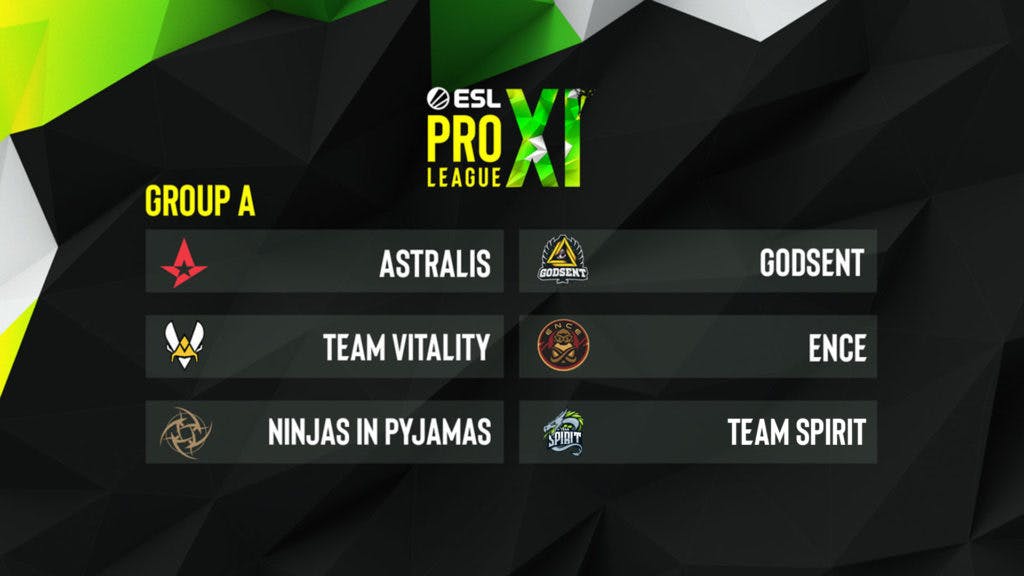 Astralis
Team Vitality
Ninjas in Pyjamas
GODSENT
ENCE
Team Spirit
Group B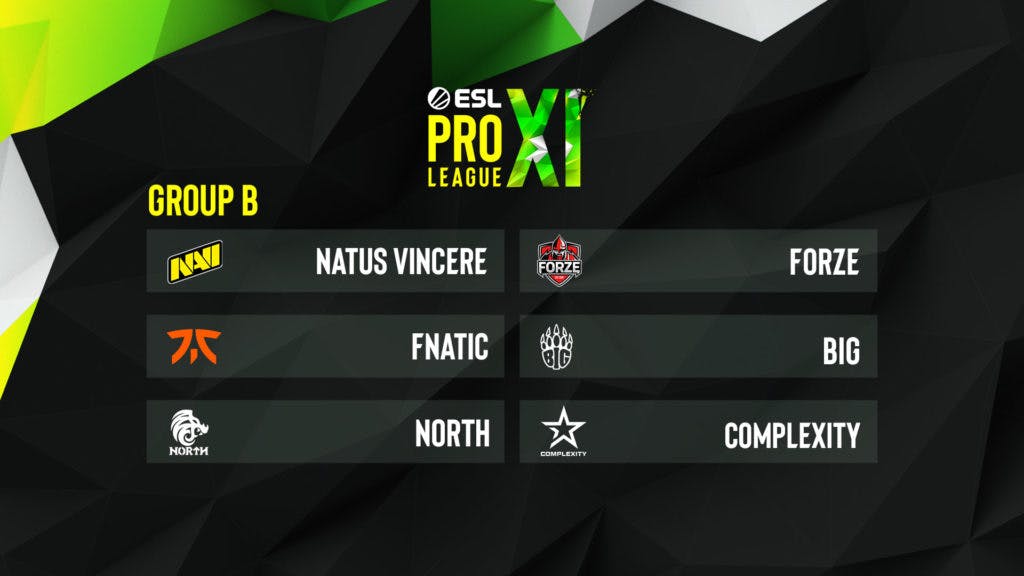 Natus Vincere
Fnatic
North
ForZe
BIG
Complexity
Group C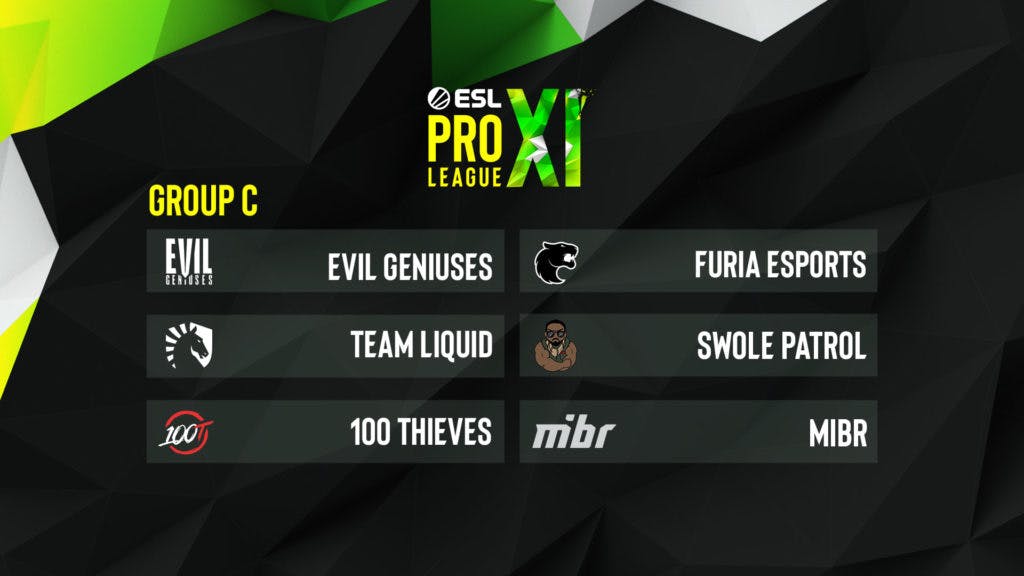 Evil Geniuses
Team Liquid
100 Thieves
FURIA Esports
Swole Patrol
TBD
Group D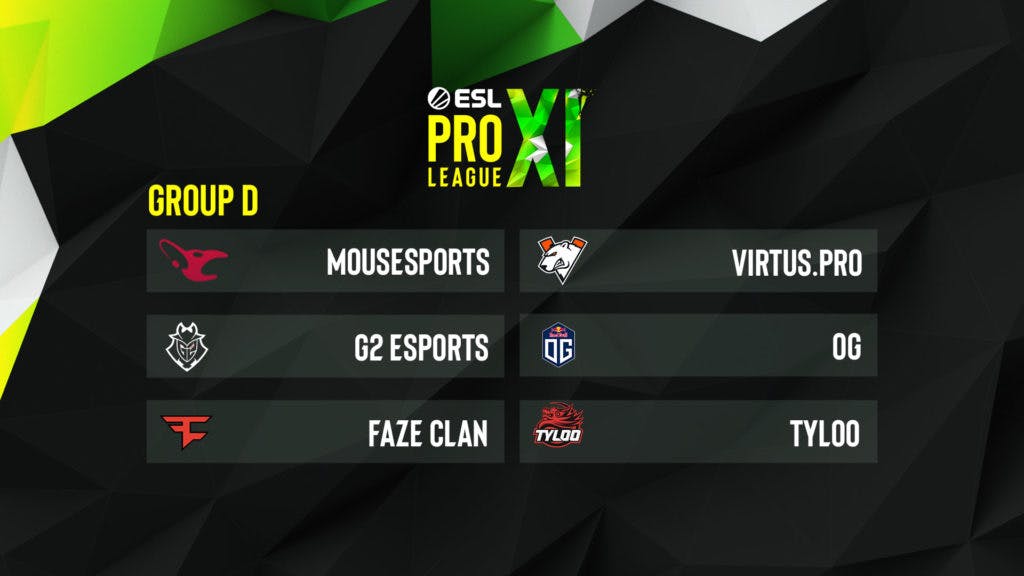 mousesports
G2 Esports
FaZe Clan
Virtus.pro
OG
Tyloo
4) Daily Match Schedule:
We will still feature three daily Bo3 series starting March 16 with production out of the ESL studio in Cologne, Germany. While teams won't be physically with us for the broadcasts, we are working on ways to connect the fans with their heroes wherever they are in the world.

There will also be some slight changes to the initially-planned broadcast plan. For the second block of teams (groups C & D), the North America group will take over the last slot of the day. Additionally, some of the 6 PM matches will also feature NA teams. Those are mainly scheduled before Europe switches to summertime in order to reduce the impact of time zone differences as much as possible under the current circumstances.

Check out the full schedule here.
5) Playoffs and Season Finals:
As previously announced, the ESL Pro League Season 11 Finals in Denver will not take place. With the travel dynamics that we have seen in the past few days, we have decided to run the playoffs purely online as well. The Europe and North America divisions will have their own champions this season.
In Europe, the three group winners will directly qualify for a second group stage, while the second and third placed teams will play decider matches based on a pool draw for the remaining three slots. The second group stage will also feature a six-team round robin format. The group winner will qualify directly into the EU Championship Match, where they will meet the winner of a decider between the second and third placed teams in a best-of-five series.
In North America, the group will lead to a four-team double-elimination bracket, where the first and second placed team are placed in the UB final. The third and fourth placed teams will be seeded into the lower bracket and then fight their way through to the LB final and the NA Championship Match, where they will meet the winner of the UB final in a best-of-five series.

Once again, we would like to thank all teams and the CSPPA who have been extremely supportive and everyone who has offered their facilities and boot camp locations to fellow players coming in from other countries. We are doing everything we can to provide the safest environment.
We look forward to putting on a great show for everyone at home, see you Monday on the broadcast chat and on social media! Don't forget to follow ESLCS on Twitter, Facebook, and Instagram